INDOOR BLINDS HOBART
Beautiful Hobart indoor blinds in a plethora of colours.
Expertly crafted with a range of durable fabrics to suit your decor by the blind experts at Max Coombes.
Read More
Discover Our Indoor Blinds
At Max Coombes & Son, we take pride in offering a wide range of high quality indoor blinds. Throughout Hobart, you'll find our amazing window coverings. These include:
Our duo blinds provide a perfect blend of privacy and natural light control. They are a versatile choice for any room.
Enjoy the warmth of natural light without compromising on your privacy. Our sunscreen blinds offer the ideal solution.
Sleek and contemporary, roller blinds are a classic choice for adding style and functionality to your windows.
A unique combination of elegance and flexibility, Verishade blinds offer a contemporary twist on traditional window coverings.
These blinds are designed for insulation, keeping your home comfortable year-round while reducing energy costs.
Achieve optimal light control with vertical blinds, perfect for large windows and sliding doors.
Classic and timeless, Venetian blinds allow you to adjust light and privacy with ease.
Add a touch of sophistication to your space with our Roman blinds, available in various fabrics and patterns.
Create a modern and sleek look with panel blinds, perfect for dividing spaces or covering expansive windows.
Explore our website to discover the perfect blinds and security doors for your Hobart, Tasmania home, and trust us to deliver excellence in every aspect of our service.
Experience the Max Coombes & Son difference today!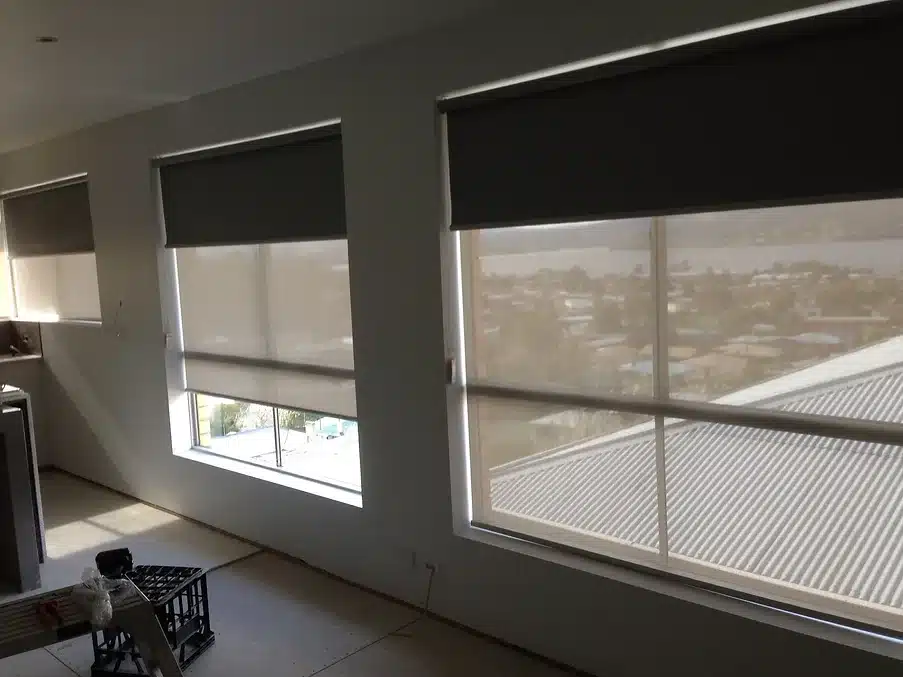 DUO BLINDS
Duo Blinds give you a wide range of light control options whilst looking modern and stylish. These innovative window blinds complement your interior with a soft modern yet refined look. Duo Blinds are a beautiful cost-effective window treatment for the style conscious on a budget.
SUNSCREEN BLINDS
Looking for an indoor blind that lets you to bask in natural light, but keeps you in the shade when you want it? Sunscreen Blinds are patio shades that allow plenty of light into your home whilst protecting you from the sun's harsh glare and harmful UV rays at the click of a button or voice command.
ROLLER BLINDS
Simple and beautiful, roller blinds come in a huge variety of colours. They can serve as showcase pieces in your home or office, or blend into your existing decor. Custom-built to measure, roller blinds are a popular indoor window covering across Hobart homes and businesses.
VERI SHADE BLINDS
If you're looking for a window furnishing that combines the best of both worlds, then Veri Shades are the perfect choice. These modern indoor blinds are made from a soft, yet durable fabric that hangs like a curtain, but can be moved at will like a blind to let the light in when you want and to block it when you don't.
CELLULAR BLINDS
Honeycomb Blinds or Cellular Blinds are increasingly popular as consumers seek out more energy efficient window treatments to retain heat in their homes. These stylish blinds are made of a pleated cellular fabric, which creates a pocket of air that helps to regulate temperature and prevent heat loss.
VERTICAL BLINDS
Vertical Blinds are a great choice for rooms with large windows or for rooms where you want to easeily control the amount of sunlight that comes in. Our Vertical Blinds come in a great variety of colours and styles to complement your home or office interior. Book a FREE consult to see our many options.
VENETIAN BLINDS
Venetian Blinds are one of the most popular window coverings in Australia and the world. They provide good insulation and privacy whilst also allowing natural light to pass through. We offer many different types of Venetian Blinds to suit any decor. Ask our experienced team to go through the options with you to find the perfect Venetian to suit your needs.
ROMAN BLINDS
Roman Blinds are a classic window treatment that has been around for centuries. Their simple yet elegant design suits most interiors. Roman Blinds are highly effective at blocking out the Australian sun's harsh rays and are the blind of choice to keep prying eyes away. They are a favourite among shift workers or for couples welcoming a baby into their family.
PANEL GLIDE BLINDS
Indoor blinds come in many shapes and sizes, but few are as versatile as Panel Glide Blinds. These panel blinds can be opened and closed to adjust the amount of light coming into a room, or they can be pulled up to provide an uninterrupted view. Stylish and minimalist, these beautiful blinds are a great addition to any Hobart home or office.
Book your Free Quote and Measure Today!
The Home of Hobart Indoor Blinds
At Max Coombes & Son, we understand that the right indoor blinds can make all the difference in your home. Whether you're looking for an indoor blind to control light and privacy or if you're wanting to add a touch of style to your decor, we have a wide variety of beautiful indoor blinds to choose from and the expertise to make sure they're perfectly fitted to your windows.
Browse our selection online to find get started or give us a call to discuss your specific needs. From the classic Venetian and Roman Blinds to modern favourites like Veri Shades, Cellular Blinds and more, we have you covered! Let us help you find the perfect blind for your Hobart home or office today.
Reach out to our team today to find the perfect blind for your Hobart home or office.