MOTORISATION
Transform your home with our smart home motorisation options.
Open and close your blinds and awnings with ease with remote, timer and voice controls.
Read More
Welcome to Max Coombes & Son, your go-to destination for a wide range of outdoor blinds in Hobart, Tasmania. We understand that outdoor living is a cherished part of the Tasmanian lifestyle, and we're here to enhance your outdoor spaces with our premium collection of motorised blinds. 
Imagine effortlessly controlling the ambience of your outdoor area with just the touch of a button. Our range of motorised outdoor blinds is designed to provide both convenience and style to your outdoor living spaces. 
Duo Blind Motorisation
The Duo Blind Motorisation option offers a versatile solution for adjusting light and privacy levels. With this feature, you can easily switch between transparent and blockout blinds, allowing you to create the perfect atmosphere for any occasion. 
Sunscreen Blind Motorisation
Enjoy the Tasmanian sunshine without the harsh glare. Our Sunscreen Blind Motorisation option lets you filter sunlight to create a comfortable and inviting outdoor environment. 
Roller Blind Motorisation
The classic Roller Blind Motorisation is a timeless choice for any outdoor space. It provides privacy and protection from the elements while maintaining a sleek and contemporary look. 
EZIP® Motorisation
Our EZIP® Motorisation system combines durability and style. These blinds are perfect for withstanding Tasmania's variable weather conditions while adding a touch of elegance to your outdoor area. 
Roller Shutter Motorisation
Security meets sophistication with our Roller Shutter Motorisation. Protect your outdoor space and possessions while enjoying the convenience of motorised control. 
Straight Drop Motorisation
Create a seamless transition between your indoor and outdoor areas with Straight Drop Motorisation. These blinds offer a neat and unobtrusive solution for managing light and privacy. 
At Max Coombes & Son, we understand that each outdoor space is unique. That's why our motorised outdoor blinds can be tailored to your specific needs and preferences. Whether you want to create a cosy or shaded retreat in Tasmanian, we have the perfect solution for you.
Experience the ease and luxury of motorised outdoor blinds in Hobart, Tasmania, with Max Coombes & Son. Our commitment to quality, craftsmanship, and customer satisfaction ensures that your outdoor living spaces will be transformed into havens of comfort and style. Get in touch with us today to explore our range and bring your outdoor vision to life.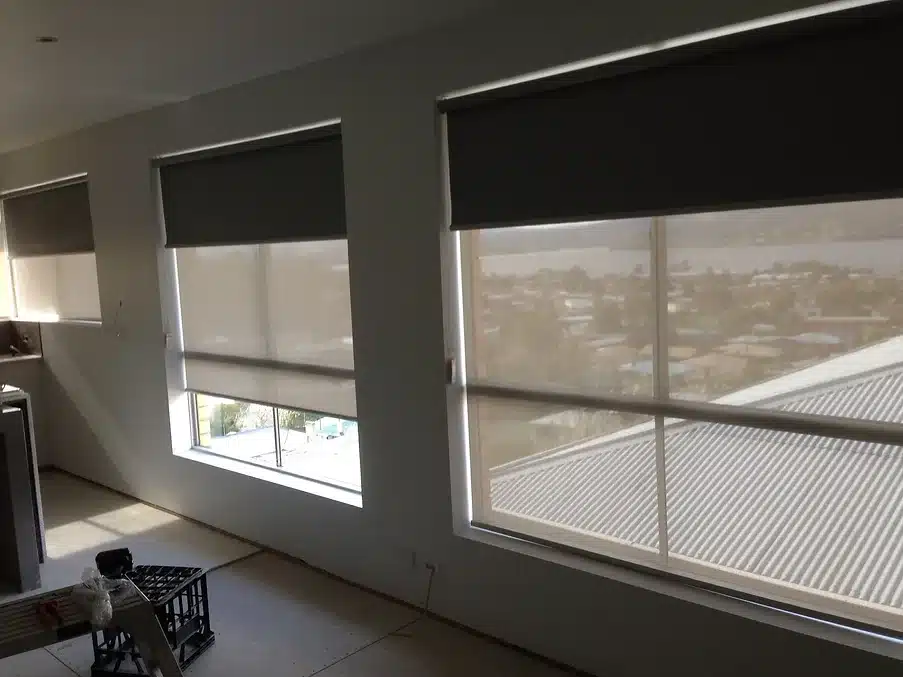 DUO BLIND MOTORISATION
Imagine walking into your home or office and activating your Duo Blinds with a voice command – or better still automatically activating them via timer. Max Coombes & Son helps you take your modern and stylish Duo Blinds to the next level with motorisation or, as you might refer to it, smart home automation via remote control, mobile app or voice command (through Siri, Alexa or Google Voice Activation).
SUNSCREEN BLIND MOTORISATION
Sunscreen Blinds are exceptional in shielding your furnishings from the sun's harmful UV rays whilst letting the air flow through. Now picture this process automatically unfolding to a set timer shielding your furnishings whenever they're under the sun's harsh glare. This the world we want you to live in with your blinds at your command. Discover that world with our team. Book in a free consult to learn more.
ROLLER BLIND MOTORISATION
Roller Blinds can be motorised thanks to smart home upgrades. Walk into your home with a simple voice command lower your blinds at will or do it automatically via a timer. It's all possible with Max Coombes & Son's roller blind motorisation options. Contact our team today to learn more about how you can take control of your shade with the experts in blinds Hobart-wide. Book a free consult today!
Motorise your outdoor blinds and awnings!
eZIP® MOTORISATION
eZip® Blinds are stylish track blinds that typically encase alfresco entertainment patio pergolas or terraces with a fine UV filtering mesh shielding occupants and furnishing from harmful UV rays.
Best of all, eZip Blinds can be motorised or automated thanks to smart home systems, giving you full control over your blinds.
ROLLER SHUTTER MOTORISATION
Roller Shutters are excellent energy-savers. They retain heat in the cooler months and keep things cool in warmer months. They're also excellent in preventing prying eyes from looking into your dwelling.
With our Roller Shutter motorisation, you can maximise this process through automation and save even more!
STRAIGHT DROP MOTORISATION
Straight Drop Awnings act as a powerful shield for your home furnishings from Australia's harsh sun rays. Enhance that protection with Max Coombes & Son's motorisation options, including smart home voice commands, timer automation, remote control and mobile app. There's a better way to protect your home from the sun and from prying eyes.
Motorise your Blinds and Awnings Today!
Motorised Wire Guide Awnings
Wire guide awnings are simple to motorise. They are essentially large outdoor roller blinds descending from a housing home base along a wire to shield partly or fully a veranda or terrace. With smart home enabled controls, wire guide awnings can be fully automated or subjugated to voice or device controls, allow for your home to enjoy the shade at its most appropriate time.
Discover how this technology can simplify your life. Experience motorisation with the outdoor blind experts at Max Coombes & Son in Hobart.
Reach out to our team to learn more about motorisation and smart home blinds options.